Skip to Content
Events for the Whole Family
Whether you're here for a date, meeting up with friends, or looking to create family memories, Indigeny Reserve in Northern California has various events perfect for any moment. We have several seasonal events that rotate and offer fun for the whole family. Be sure to check our Facebook page frequently, as things can change, and new events can be added. We look forward to seeing you at our events.
Events List
Food Vendor Alert: Hangry Hatchet out each Saturday and Sunday in September from 12pm-5pm with BBQ style food.
October 6, 2023, New Cider Release
October 7, 2023, Fall Festival 11am-4pm, FOTC Pumpkin & Zucchini Weigh in
October 7, 2023, Lucky Cuz Brass Band 12pm-3pm
October 8, 2023 Music Cole Hinkle & The Debauchery 12pm-3pm
October 14,2023 Fall Festival 11am-4pm, Music Blue Oak Band 12pm-3pm
October 21, 2023 Fall Festival 11am-4pm, Music McFunky Band 12pm-3pm
October 28, 2023 Fall Festival 11am-4pm, Music Kris Olson and Friends 12pm-3pm
Food Vendor Alert: Saturdays and Sundays from 12-4 for the rest of October and into November each Saturday and Sunday B's Bites.
October 28, 2023, Clan Dyken Band 12pm-3pm
November 3,2023 New Cider Release
November 23,2023 CLOSED THANKSGIVING DAY
December 9, 2023 Winter Wonderland Festival 11am-4pm, Santa 11am- 2pm, Gingerbread Making
December 10, 2023 Santa Claus will be here for a visit to take photos with your little ones from 11am-2pm
December 24,2023 CLOSED EARLY 3PM
December 25, 2023 CLOSED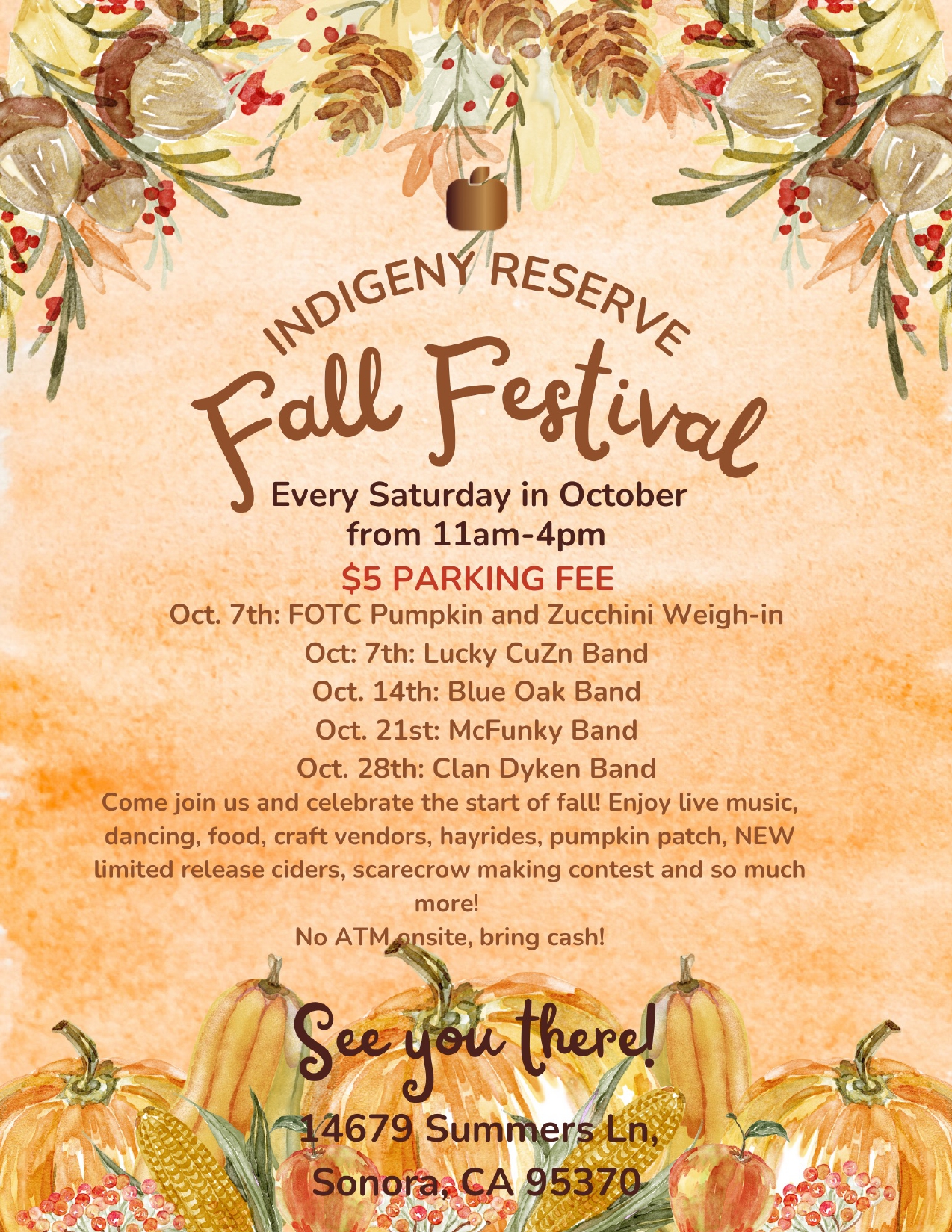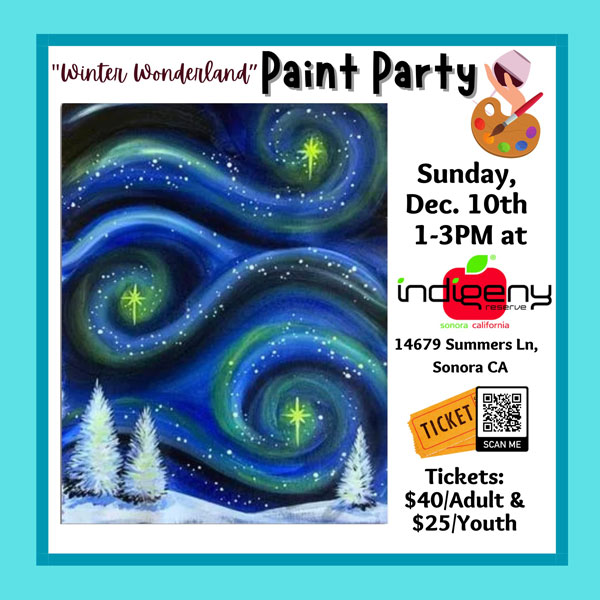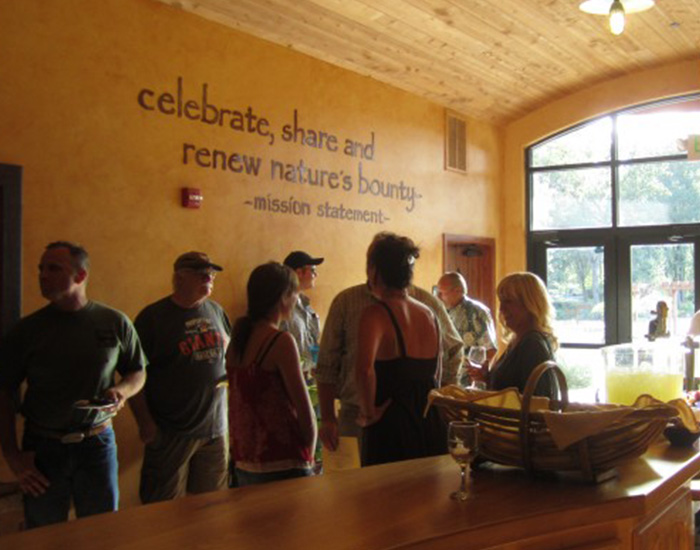 Keep an Eye Out for Local Events
Not only do we try to host several educational guest speakers, but we also try to act as an event hall for our community. We offer our grounds to local musicians seeking experience performing in front of a crowd. As always, we are constantly updating our event calendars, providing updates to current events, or adding new ones. Talk to Casandra Hard, our Program Director, to learn more about hosting an event or scheduling a performance.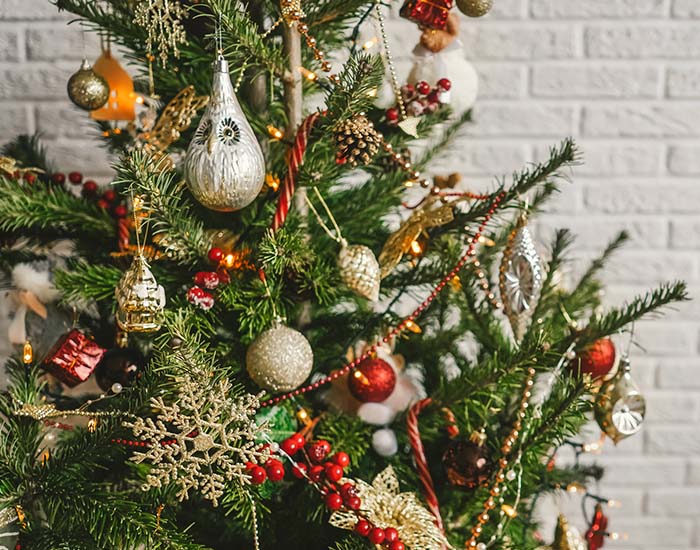 Experience Our Winter Wonderland Festival
Last year we put on our Winter Wonderland Festival in December. You and your family could visit Santa. There were craft and food vendors, cookie decorating, letters to Santa station, and a Christmas light hayride that got rained out. We had storytime for the little ones throughout the day. And, of course, we released a limited hard cider. Be sure not to miss out on the festive fun this year.
We Support Our Community
We understand that our success is thanks to our community. Our goal is to provide multiple opportunities to give back to our community by offering events for everyone to get together and have fun. Whether you're looking for a fun seasonal event or learning more about sustainable living, Indigeny Reserve has the possibilities for you. Again, if you're looking to host an event or book a performance on our grounds, contact us and ask to speak to Casandra Hard. We'll be happy to help and look forward to seeing you.